Discover more from Reboot
Essays, events, and community about reimagining techno-optimism for a better collective future.
Over 5,000 subscribers
⚡ New Workshop: Tech Writing for Non-Writers
A nonjudgmental space to imagine and create
Want to write, but don't consider yourself a 'writer'? Have endless ideas you never get around to drafting? Aim to influence the discourse around tech and society?
If so, join

Reboot's new workshop series

for novice and aspiring tech writers, held from 1-3pm PT on May 23 and 30.
The sessions cover subsequent stages of the writing process (drafting and revision), but you can sign up for either one or both sessions.
Everyone's welcome! This event isn't top-down instruction; rather, it's an opportunity to outline your vision for a better technological future in a group of engaged, supportive, and thoughtful peers. We define "tech writing" broadly: book reviews, startup advice, historical narratives, and sci-fi shorts all fly.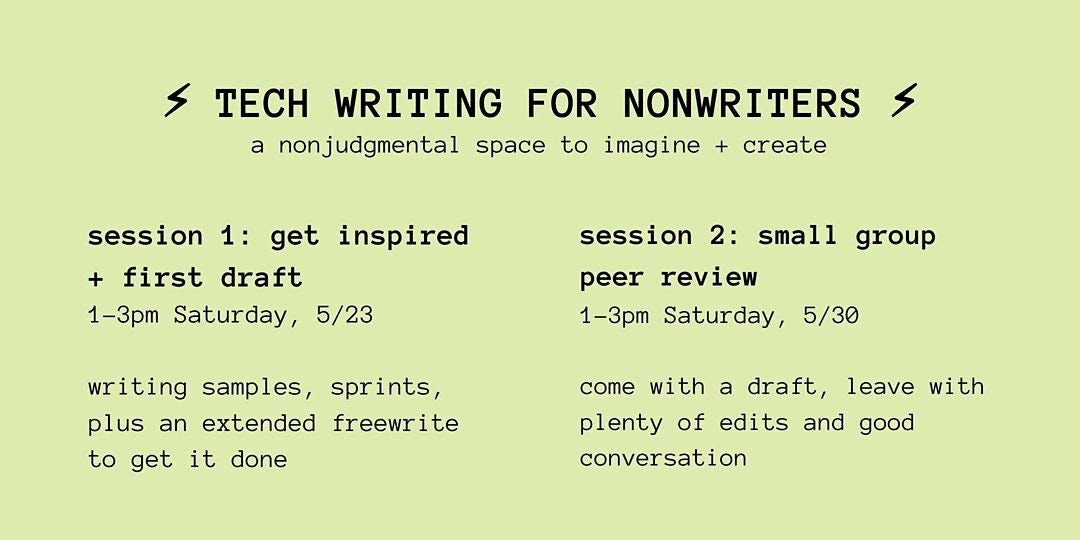 Session One includes:
Short writing warm-ups

Reading and discussing sample works

30-minute focused writing session
Prerequisites: None.
Objectives: Attendees are inspired by provided prompts and sample works. Each attendee leaves with several article ideas and one outline or rough draft.
Session Two includes:
Tips on giving/receiving feedback

Small group breakouts for peer review
Prerequisites: A drafted piece, either from Session One or elsewhere.
Objectives: Each attendee receives constructive criticism based on their personal writing goals and feels equipped to polish their work. Attendees read and are inspired by others' writing.
Facilitated by Jasmine Sun (Stanford Sociology) and Jessica Dai (Brown CS). Contact: jasminesun at stanford dot edu or jessica.dai at brown dot edu.